Optoma UHD55
Smart 4K UHD home entertainment projector
Prepare to be amazed. Immerse yourself in a world of Ultra HD gaming, live sport, TV shows and movies with the UHD55 high brightness projector. Experience sharp 4K UHD resolution and ultra-low input lag for smooth high framerate gaming. TV and movie fans can enjoy mesmerising entertainment on an expansive screen with super-wide DCI-P3 cinematic colour, crystal clear detail, and sparkling contrast.
Packed with the latest technology and features, this stylish projector boasts High Dynamic Range (HDR) and HLG compatibility, Full 3D and HDMI 2.0. Smart features include voice control, Creative Cast, IFTTT and a built-in media player.
Installation is easy with a 1.3x zoom, vertical lens shift, 3×3 warping, four corner correction and keystone correction for image alignment. Perfect for enjoying life-like big-screen entertainment in any living space.
Features
Specifications
Downloads
Video
4K UHD gaming and home entertainment projector
Immerse yourself in a world of Ultra HD gaming, live sport, TV shows and movies. The Optoma UHD55 delivers impressive 4K cinema quality images and lightning fast refresh rate of 240Hz for silky smooth gaming.
TV and movie fans can also enjoy excellent colour depth, crystal clear detail, and sparkling contrast for a stunningly immersive experience.
Packed with the latest technology and features, this stylish projector boasts High Dynamic Range (HDR) and HLG compatibility, Full 3D and HDMI 2.0.
UHD55 even comes with 1.3x zoom and vertical lens shift for easy installation. Perfect for enjoying life-like big-screen entertainment in any living space.
Highlights
4K UHD resolution – HDR and HLG compatible
Lights on viewing – 3600 ANSI lumens
Supports 1080p 240Hz for smooth gaming
Input lag of 4ms @ 1080p/240Hz
Easy installation – 1.3x zoom and vertical lens shift
What is True 4K UHD
At least 8 million active pixels
The Consumer Technology Association (CTA)® definition of 4K Ultra HD resolution states the display resolution must have at least 8 million active pixels.
Optoma True 4K UHD
Optoma UHD55 True 4K UHD projector is powered by a revolutionary Texas Instruments 4K UHD DLP Chipset featuring a high performance DMD utilizing XPR video processing technology with fast switching to display 8.3 million pixels (4x the number of pixels of 1080P) as mandated by the Consumer Technology Association's 4K UHD specification.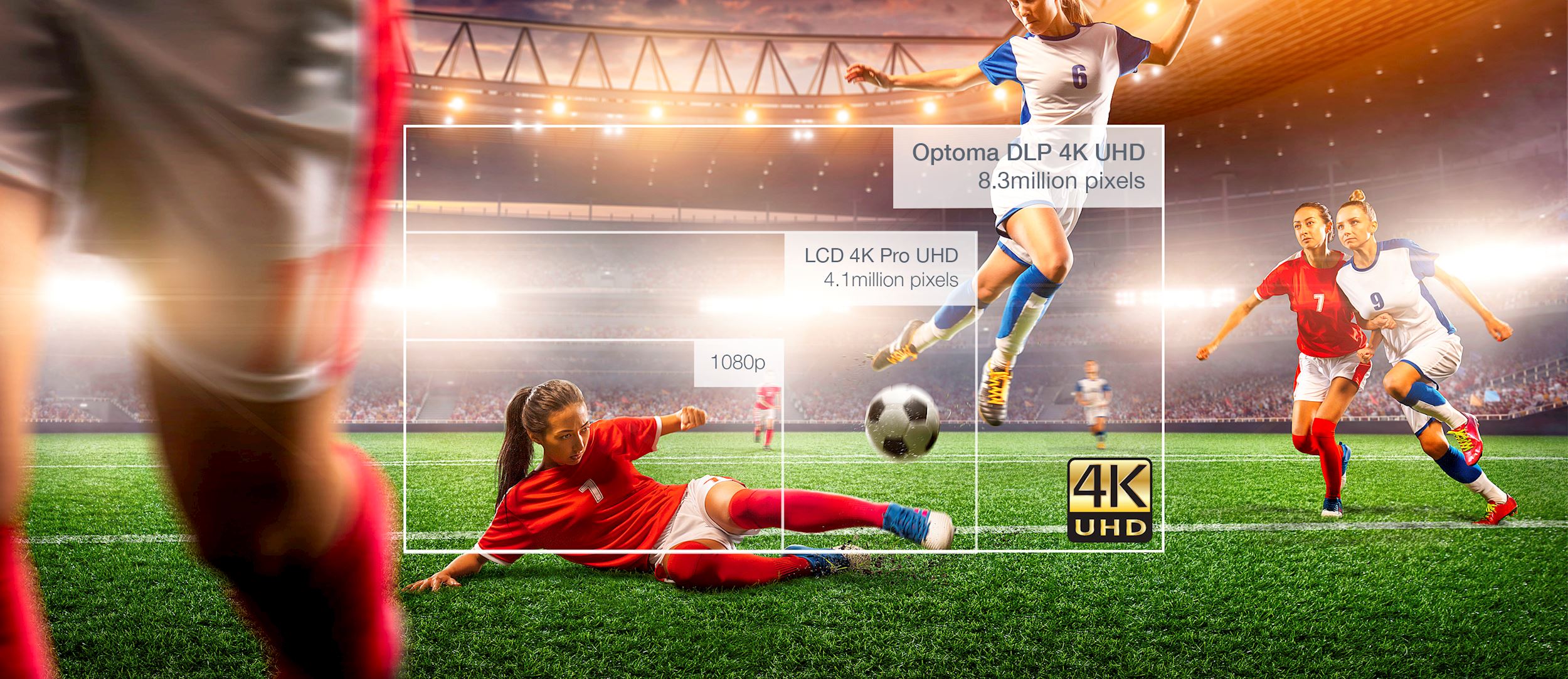 Lights on viewing
This all-round home entertainment projector combines high brightness and vivid colours for vibrant, true-to-life visuals in well-lit environments – ideal for watching TV shows, sports and movies or gaming with family or friends any time of day.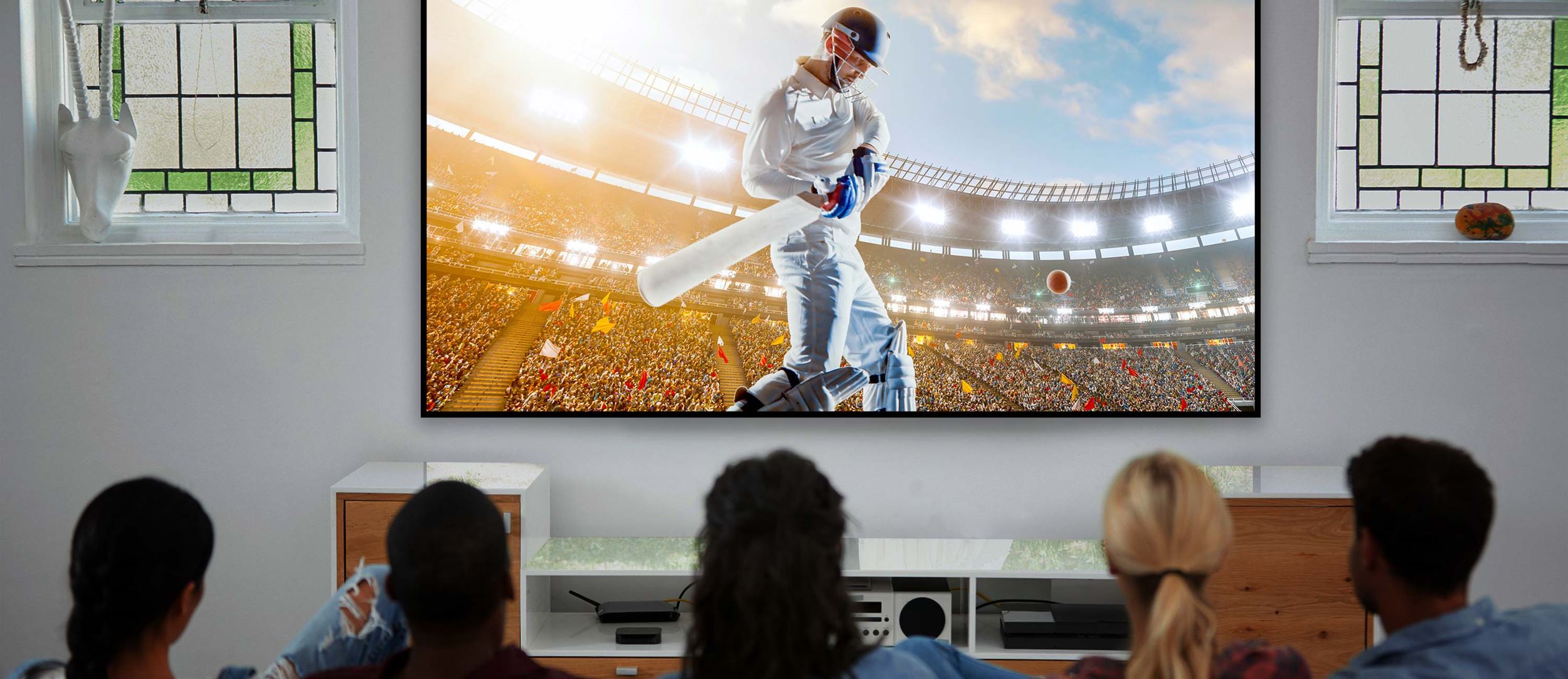 Amazing colour
Watch your movies, TV shows and play games with stunning colours in any environment. Optoma projectors provide reliable performance suitable for any content and environment. Our home projectors are capable of reproducing the Rec.709 colour gamut, the international HDTV standard to guarantee accurate reproduction of cinematic colour exactly as the director intended. Or more saturated colours for a punchy looking image, great for gaming and animated movie
Optoma HDR
HDR10 / HLG
supports HDR10 and HLG. When a HDR/HLG signal is imported, the projector automatically switches to HDR / HLG display mode. Through Optoma's HDR color mapping and tone mapping technology, it enables HDR / HLG movies or games to be presented with optimized performance in the accurate color and dynamic contrast.
HDR / HLG Picture Mode
HDR, High Dynamic Range, is a standard that comes with a higher dynamic range in video signals, allowing the image to be shown with more brightness and color without losing any details. This allows users to adjust the dynamic range according to the video content or environment.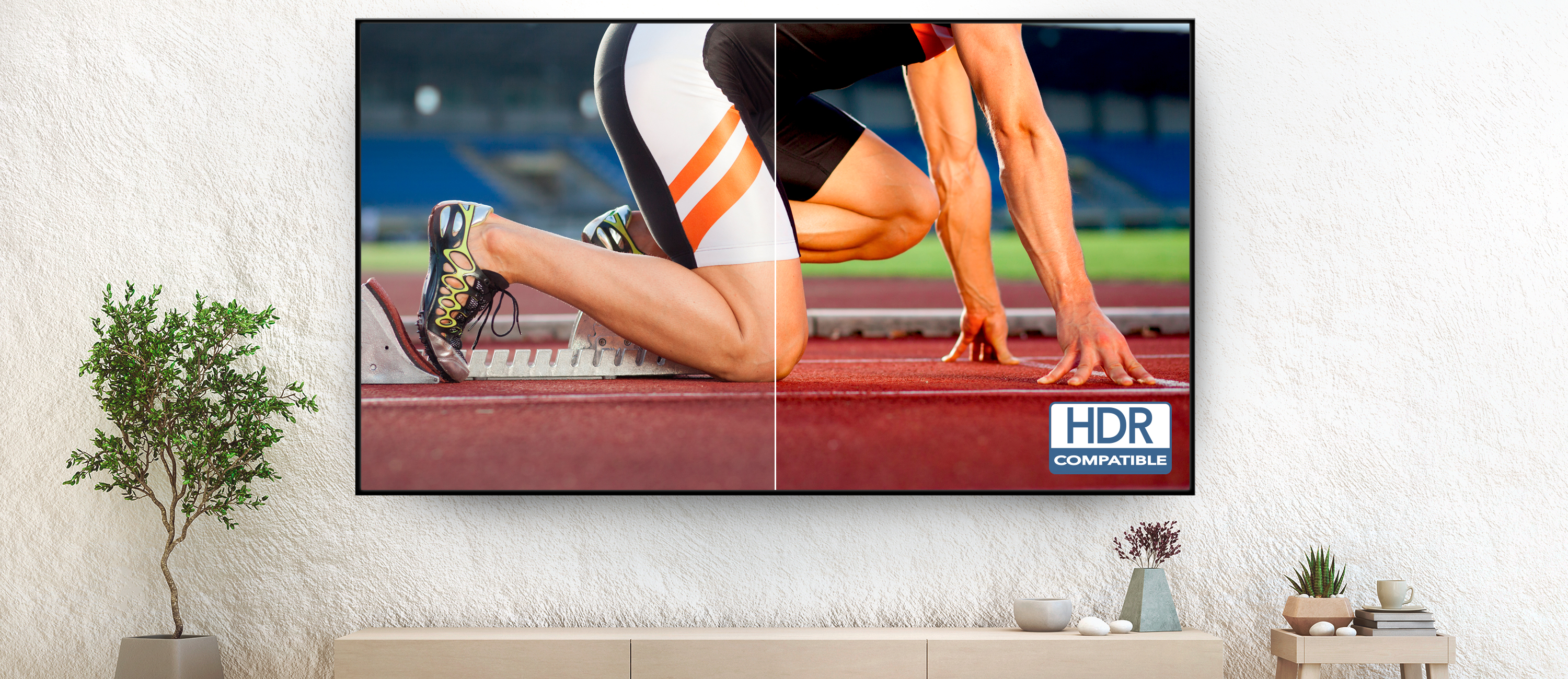 The Smart and Simple Way to Watch Movies
Watching movies is easy. With the touch of a button, switch to "Cinema" display mode, image performs true to life with high contrast by the specific Gamma curve and color gamut. In the meantime, it activates Brilliant Pulse on Red function to make the light pulse project onto the red segment of the color wheel. Red enhancement reproduces closer to natural skin tones, better color saturation and a more enjoyable viewing experience.
Dynamic Black
Dynamic Black can accurately control light bulb output power and automatically adjust it based on different image brightness. There is no need to use an aperture ring to adjust for dark scenes. With Auto Gain function, details are more pronounced and an increase in contrast ratio of nearly three times is achieved. This means that images appear true to life with dramatic increase in contrast
Lightning-fast 240Hz Refresh Rate
The refresh rate is the number of times your display device updates with new images in each second. 240Hz means 240 times per second. The higher the refresh rate, the more frames your monitor can display in each second and the smoother your on-screen image can be shown.
Turning on the "Enhanced Gaming" mode in UHD55, the image output will run in 1080P with 240Hz refresh rate, which is 4 times higher than standard PC gaming monitor.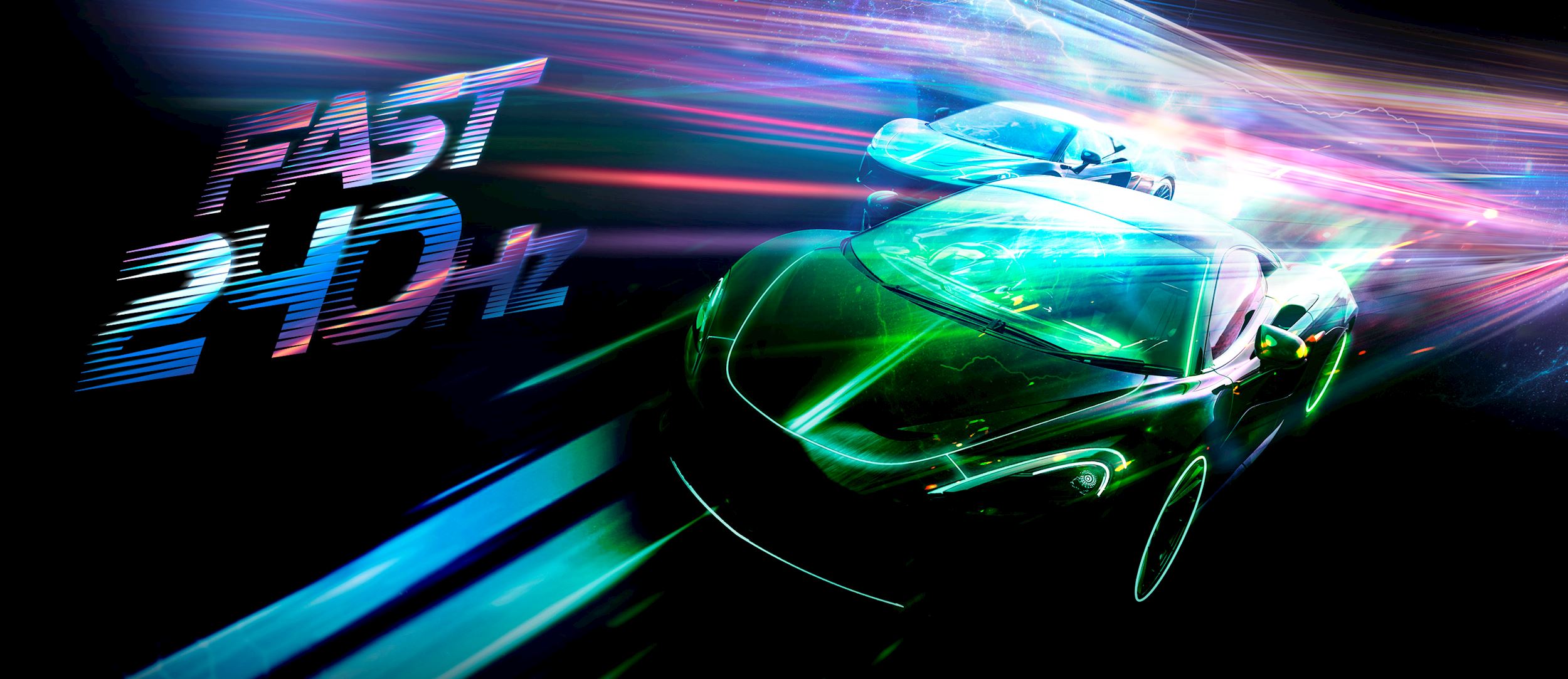 Game mode
Game mode optimises your projector for maximum contrast and vivid colours to capture every detail – leaving you time to focus on winning.
Enhanced gaming
Enhanced gaming optimises your projector by reducing input lag to 4 ms for lightning fast response times.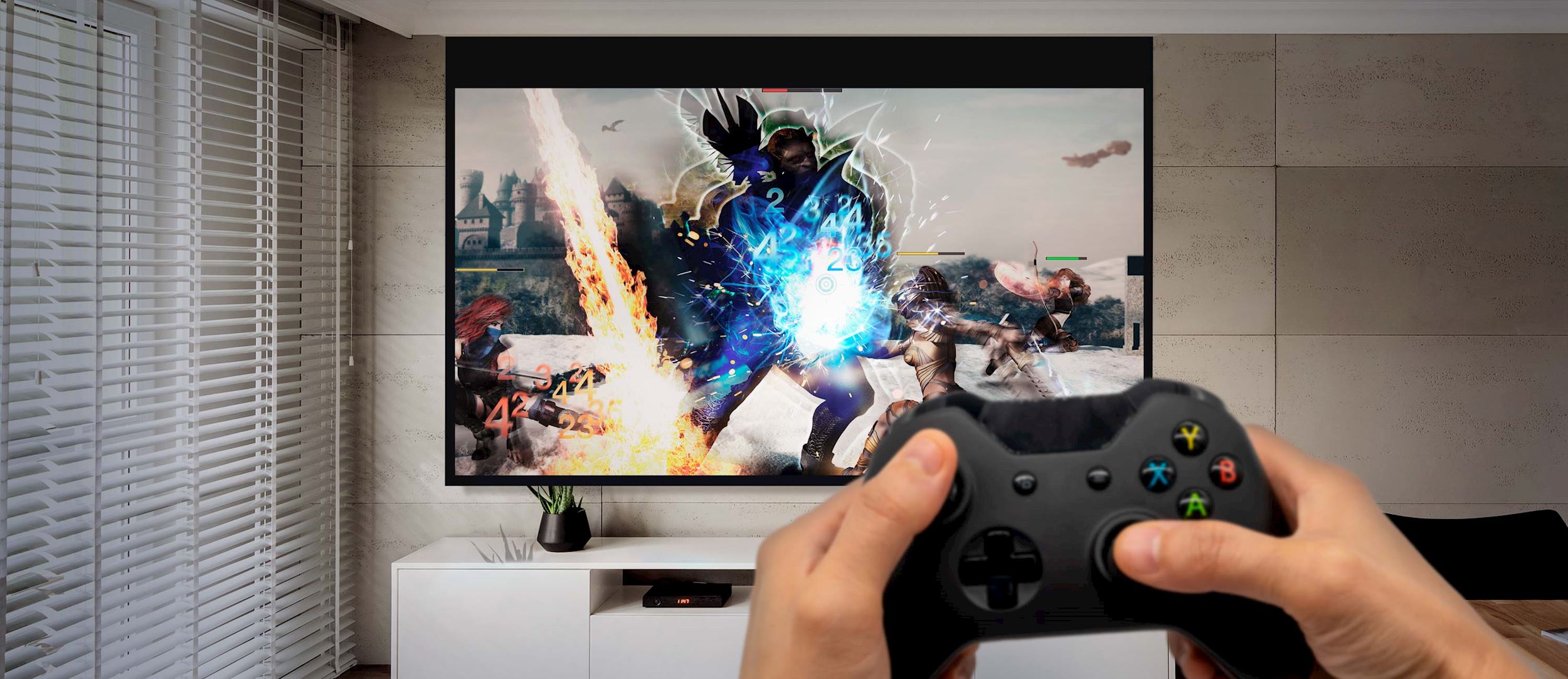 Keep Eyes Safe And Comfortable
Projector screens actually are better for your eyes. Projectors are able to produce much larger images, which put less strain on your eyes. In addition to this, projected images are reflected light while TVs are direct light which gives more eye strain.
Vertical Lens Shift
Simplify installation with vertical lens shift, which provides a wider range of projector placement possibilities. This makes it easier to position the projector in your room and enables a wider range of screen size options.
Dual HDMI inputs
Play games, stream videos and share photos on the big screen in the comfort of your own home. With dual HDMI inputs, you can easily connect to your games console, set-top box, laptop, PC, Blu-ray player or media streamer with a single cable. You can even turn it into a smart projector by connecting an HDMI dongle like the Google Chromecast™, Amazon Fire TV, Apple TV™ or Roku® stick.
Integrated speaker
Complete your home entertainment experience with the convenience of a powerful built-in speaker for exceptional sound quality and an easy set up without the need for costly external speakers.
USB-Power
Use the two USB-A ports to power an HDMI dongle, such as Google Chromecast.
Backlit remote
Our backlit remotes are designed using subtle white LEDs to light up the buttons, making it to see and operate, especially in the dark
Wall colour adjustment
Don't have a white wall or a projector screen? No problem! With the "Wall Color" setting, you can alter the projected image based on the colour of your wall. With six options to chose from you can easily adjust for blackboard, light yellow, light green, light blue, pink and grey walls to get the most accurate color gamut
Display Technology
DLP 4K UHD chip
Native Resolution
4K UHD (3840 × 2160)
Brightness
3,600 Lumens
Contrast
1,200,000:1
Light Source
Lamp
Lamp Life
4,000/10,000/15,000(Bright/STD/DynamicBlack)
Throw Ratio
1.21 – 1.59:1, ±3%
Zoom Type
1.3x Manual
I/O Connectors
2x HDMI, VGA in , Audio in(3.5mm jack), Audio out, S/PDIF, USB-A (power 5V/1.5A), USB-Ax2( USB stick and WiFi Dongle), RJ45, RS232, 12V trigger
Speaker (Watts)
10W
Weight (Kg)
3.72 ±0.2kg
Dimensions (W x D x H) (mm)
315 x 270 x115 mm (w/o feet), 315 x 270 x118 mm (w/ feet)
Aspect Ratio
16:9
Projection Screen Size
34.1″ – 302.4″
Projection Lens
F# 1.94~2.23 / f 12.81~16.74mm
Uniformity
80%
Horizontal Scan Rate
31~135KHz
Vertical Scan Rate
24 – 120Hz (1080p/240Hz at Enhanced Gaming Mode)
Displayable Colors
1073.4 million colors (10 bit)
3D Support
Full 3D (HDMI2 only, HDMI1:Frame Sequential/ Frame packing)
Noise Level
26dB
Power Supply
100–240V, 50–60Hz, auto-switching
Power Consumption
Power Consumption (Min) @110V 210W; Power Consumption (Max) @110V 330W Power Consumption (Min) @220V 200W; Power Consumption (Max) @220V 320W
RoHS
Compliant